Preventive Corrective Action

Preventive corrective action may require many integral processes that function together for best results. These processes can include audits, change control procedures, customer complaints management, etc. At the core of this is your CAPA management processes, or in other words, Corrective and Preventative Action procedure.
8D Manager Software with 8D report generator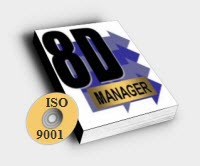 Do you want to...

Improve your corrective action system?

Spend less time writing corrective actions reports?

Keep all of your 8D and 5Y reports in one place?

Not worry about formatting 8D reports?

Tie all supporting documents (SCARS, pictures, Failure Analysis) into one report?

Are you...

Struggling with keeping track of all of your corrective actions?

Forgetting previous customer complaints, written details, and resolution history?

Looking for inexpensive 8D eight disciplines software that tracks all of your 8D records?

Concern about your next ISO audit and providing corrective action documentation?

Do you need to quickly...

Create and edit an 8D report?

Find old 8D reports for a given customer?

Distinguish between internal and external 8D eight disciplines reports?

Distinguish between open and closed 8D reports?

Track all actions for each of the 8 disciplines?

See a history of your 8D eight disciplines actions?

If you answer yes to any of the above questions then Quality Assurance Solutions is proud to offer you 8D Manager. 8D Manager addresses all above issues and more.


8D Manager is inexpensive, easy to learn and easy to use. Start working within in 10 minutes.

This software allows you to...

Provide your customer an impressive 8D report.

Track all of your preventive corrective actions, owners and due dates.

Quickly find your history of all corrective actions.

Not only help you pass an ISO audit but amaze your ISO auditor.

In addition the 8D Manager package includes…

A step by step manual to assure you get maximum benefit of the software.

A corrective action procedure template. Use this to document for your preventive corrective action system for ISO 9001 certification. This ties the 8D Manager software to your corrective and preventive action procedure.

Other Benefits of 8D Manager...

Multiple users can access the information at the same time. There is no additional pricing for additional licenses.

You can customize the forms and reports labels to match your company's terminology and traceability needs.

8D Manager provides Global 8D reports for reoccurring issues.

Your Satisfaction is Guaranteed. Within 30 days, if you are not satisfied with 8D Manager, I will refund your money. 8D Manager is only $49.00


CAPA (Corrective and Preventative Action)

CAPA, according to an online source, "is a concept within Good Manufacturing Practice (GMP),"1 and can be explained (at least partially) in six or eight steps: For eight steps please review this.

---

Quality System CAPA Procedure #1: Definition

When a company seeks to implement their CAPA process, they must identify and define the problem. The definition phase requires clear reporting (i.e. documentation). Document how you gathered or deduced the problem information. Provide proof that the problem exists.

---

Quality System CAPA Procedure #2: The Appraisal

Procedure #2 of the preventive corrective action focuses on appraisal. Here you determine the impact that the problem is likely to have on the company's overall business. Study the possible impacts related to costs, function, product quality, safety, reliability, and/or customer satisfaction issues. Include possible risk to customers, employees and any form of necessary remedial actions.

After pinpointing the impacts and risks then you determine the seriousness of the issue. After years of experience, companies can associate certain risks and/or impacts with varying levels of seriousness. These levels of seriousness act as guides to corrective and preventative actions.

---

Quality System CAPA Procedure #3: Discovery

If a remedial action has not resolved the issue at hand during phase #2 then undertake the discovery phase of the CAPA process.

Before beginning the discovery investigation determine the goals for the CAPA action. These important goals act as the guidelines for whether or not the CAPA action is resolved by phase #6.

Develop a strategy for the CAPA investigation itself. The strategy should include a set of specific instructions for determining the contributing root causes of the problem. In addition the strategy should also direct a comprehensive review of all circumstances related to the problem.

---

Quality System CAPA Procedure #4: Examination

The examination stage of the preventive corrective action isolates the root cause of the problem. This "rooting out" takes place after
First determine all possible and probable cause of the problem. Then collect data that supports and/or refutes these possible causes.

Document and organize every aspect of data during this stage. Depending on your company, this data may come from a variety of sources. This inlcudes testing results and/or review of records, processes, service information, design controls, operations, and any other information that may lead to a determination of the fundamental cause of the problem.

---

Quality System Preventive Corrective Action Procedure #5: Action and Implementation

During the action and implementation stage you start to make progress to fixing the problem. Here you develop a methodology that prevents the problem from reoccuring. Like the other CAPA stages, this plan must be documented. Assign responsibility and due dates for the various actions.

Companies may also want to consider an automated CAPA software solution which tracks and store all CAPA related forms and records and ensures accountability from CAPA participants. A Preventive corrective action software solution can literally save companies days, months and even years worth of valuable time that can be spent on more valuable endeavors.

To close the implementation phase, the CAPA investigator summarizes any actions taken during phase #5. Be sure to inlclude any changes made to the processes and process documentation within the CAPA documentation.

---

Quality System CAPA Procedure #6: Closure

The closure of the CAPA investigation occurs only after evaluating the concluded CAPA actions. The evaluation, must not only verify the successful completion of the identified tasks, but also assess the appropriateness and effectiveness of the actions taken. Accomplish this by answering a series of questions.

1) Have all of the objectives been met?
2) Have all recommended changes been completed and verified?
3) Has training and appropriate communications been implemented to assure that all relevant employees understand the situation and the made changes
4) Has an investigation demonstrated that that the actions taken have not had any additional adverse effect on the product or service?

If you answered these four questions successfully then document the proof of the actions' success. The actions have been validated.

After reading this preventive corrective action, read this on the 8D discipline for corrective actions.

Article Source: http://EzineArticles.com/?expert=Marci_L._Crane
http://EzineArticles.com/?CAPA---Your-Quality-System-With-6-Steps&id=1836454

---
Does Punishment Action Reduce Operators Errors !!!!
Is disciplinary action (i.e. progressive discipline warnings) an effective way to reduce operator errors and process deviations on a shop floor?
What Other Visitors Have Said
Click below to see contributions from other visitors to this page...

No Not rated yet
It demotivates the personnel & reduces his/her attachement with the work....
No Not rated yet
Error is not caused by operator directly,but the system which facilitate the operator do the job properly.
So..this is not punishment makes the operator …...
Not Always Not rated yet
May be yes and may be no, it depends on the nature of error and the prson who do the error. but by all means if you can find the engineering soloution …...